Automatic Doors and Hardware
Quality keeps the doors open
Mantario Door Ltd. has been servicing and installing commercial automatic doors for over 30 years. We are the authorized distributor of Nabco Automatic's for Manitoba & Northwestern Ontario. Mantario offers a commercial automatic solution for all types of doors and industries. (Hospitality, Educational, Health, Retail, Industrial, Office, Grocery Stores, shopping malls, Multi Family and any other commercial property type)
Mantario services and repair all brands of automatic door operators.
Suppliers
Authorized Distributor of Nabco products.
Sliding Doors:
The NABCO GT1175 Series sets the standard for smooth operation and quiet performance. The GT1175 Series is engineered to withstand challenging environments and weather conditions. the ultra-quiet, high-performance GT1175 Series is the right solution for every automatic sliding door entrance.
Swing Doors Automatics:
NABCO designed our Low Energy and Full Power Swing Door Operators to automate nearly any new or existing door.
GT500/8500 Heavy Duty/Low Energy ADA Operator
GT710/8710 Low Energy ADA Operator
From Medical ICU doors to drive thru automatic windows Mantario will have an option to suit. Give us a call to find out about all the solutions we carry!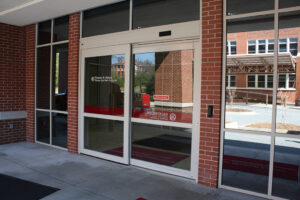 Automatic Doors